1
« on: July 01, 2015, 06:09:50 PM »
well, an exciting couple of weeks on the guitar front.
Firstly, my birthday present.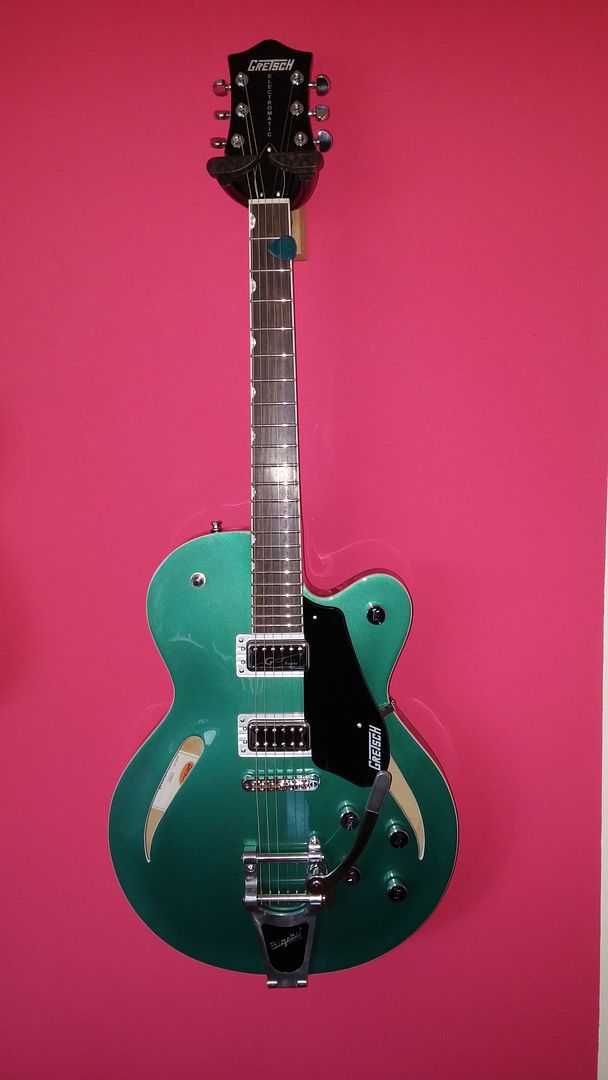 A Gretsch Electromatic Center Block, I originally (as related in an earlier post) went looking for a Les Paul. Something special for my 50th birthday. Nothing jumped out at me, I toured several shops, but nothing stood out as special. I then saw a pic of one of these on the web and thought "wow". Obviously, I would need to play one and see if it was as good as the pics.
A visit to Andertons in Guildford was arranged as I was in the area on other business (arranged by me to enable the visit to the aforementioned guitar shop
).
I played it in the store, and it was everything I had hoped for. The neck was perfect for my stumpy fingers.
A range of sounds that suited my style flowed from the Marshall combo the store let me
abuse
use.
The best part was that the guitar was still displaying the original price, which I knew had gone up by about 80 quid as it was on their website. I feigned ignorance when they mentioned the rise and a deal was done for the guitar and a hard case.
I've done a couple of gigs with it now, absolutely great! A lovely single coil growl from the bridge p/u. More mellow and fuller on the double coil neck p/u. The best bit is the feedback coupled with the Bigsby. This is my first Bigsby and I'm loving it. Get in front of the amp and strum a chord or pick a note, then gently vibrate the arm and you get fantastic note blooms and controlled feedback and sustain. I think the other band members may be getting slightly bored with it now!
The Gretsch is now my main squeeze. I was doing our first set with a Tele and the second set with my Gold Top. Now the Gold Top is my backup guitar, the Gretsch does it all.
Secondly, a friend of mine had an Epiphone ES335 Dot hanging on his wall. He plays bass and hadn't really used it much. About 18 months ago he was thinking of selling, but we couldn't agree on a price. He was asking more than they were fetching on line etc.
Anyway, last week he phoned me to see if I was still interested, as he urgently needed to raise some cash.
The asking price was what I had offered previously. KERCHING!
Here she is.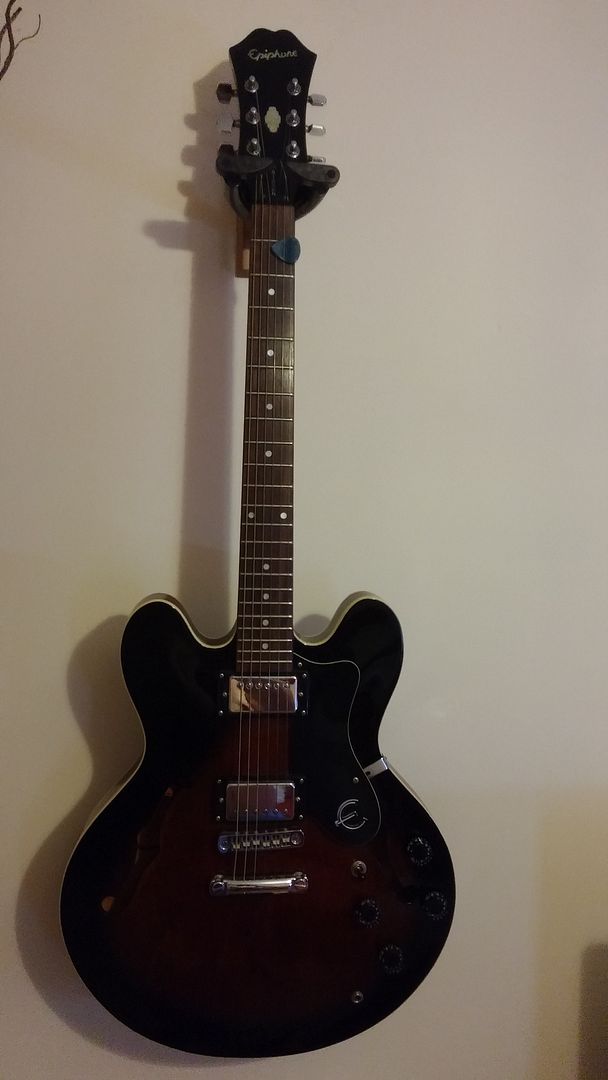 It originally had gold witches hat knobs fitted, but I prefer speed knobs. I may get some gold ones and see what they look like.
Again, a lovely neck, lovely sounds. So far I've only played it indoors and at rehearsal. I've yet to play it at a gig, trouble is I have the Gretsch now!
Oh, and apparently I can't possibly need ten guitars. so there may have to be some losses in the ranks.
Rock n roll.